Migrating from Shopify to WooCommerce is easier than you think and it doesn't require heavy technical knowledge. People often start their first online store with Shopify and when the store is growing rapidly, they feel the necessity of migrating to WooCommerce.
While using WooCommerce for your online store, you will get the chance of exploring new and exciting features for selling online.
There are certain steps you need to take before starting the migration process. This post is going to explain the whole process in simple steps.
Why should you migrate from Shopify to WooCommerce?
The first thing you are going to like about WooCommerce is that it is open source. It means you don't have to pay to explore the features. You will only pay additionally when using third-party tools or addons. As it is open-source, it is easy to find relevant applications for the platform.
Let's say you want to add some custom pages to your website like thank you page, cart page, etc. You can do that easily with WooCommerce builders like ShopEngine. Another thing is, that most WooCommerce builders come with both free and pro options. You can start for free and then move to the pro version only if you are satisfied with the features.
Like I was saying about ShopEngine, you will get both free and paid options for the plugin. The possibilities are endless and content management becomes easy with the WordPress platform.
Things to consider before migrating from Shopify to WooCommerce
So, you are ready to migrate from Shopify to WooCommerce. But before you take any further steps, there are some facts you need to consider. Here are the things that you must do before starting migration from Shopify.
Keep a backup of your store
No matter whatever action you are taking for an online store, it is always recommended to keep a backup of the site. This gives protection against data loss.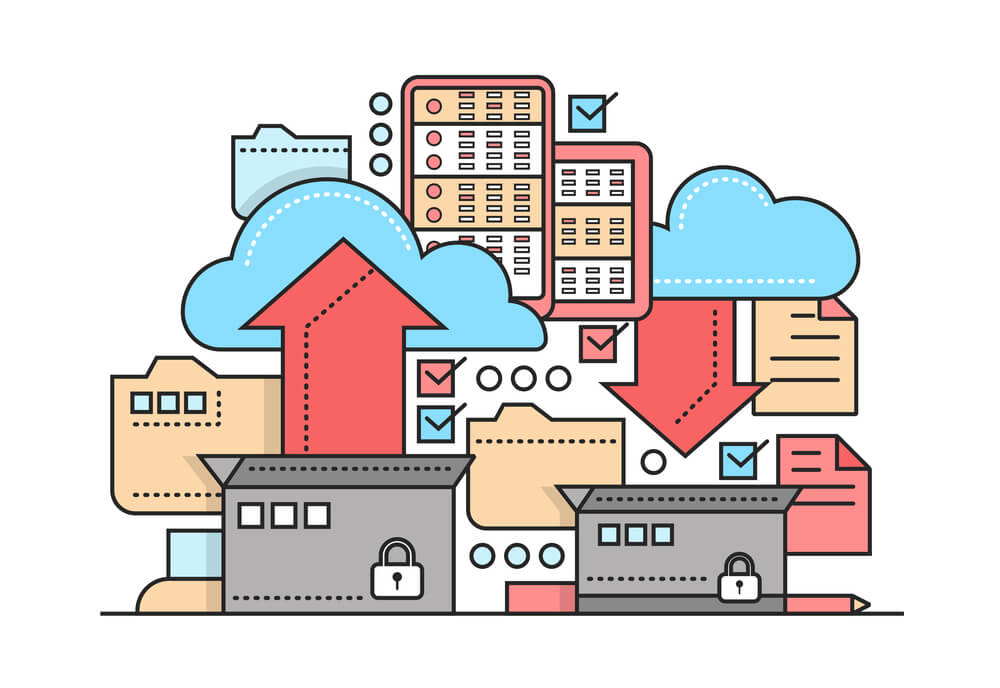 As mentioned earlier, there are some limitations with the Shopify platform. One of the worst things is there is no particular backup function of the platform. Shopify allows for only product data backup and that is not enough for any online store.
You should also keep a backup of other files as well along with the product data. For this, you will have to use third-party tools. You can try Rewind Backups or Automatic Backups to keep the store's data backup. These are apps and you need to connect the stores with any of these apps to backup the site data.
Choose a WooCommerce friendly hosting
With Shopify, you don't have to use a hosting service separately. But when you are migrating to the WooCommerce platform, you will have to choose high-quality hosting so that your site remains live 24/7.
However, you shouldn't rely on any random hosting provider. If you are running a large online store, you should choose a hosting provider that has a dedicated service for WooCommerce. Considering all the factors mentioned, Kinsta is currently providing the best WooCommerce hosting service.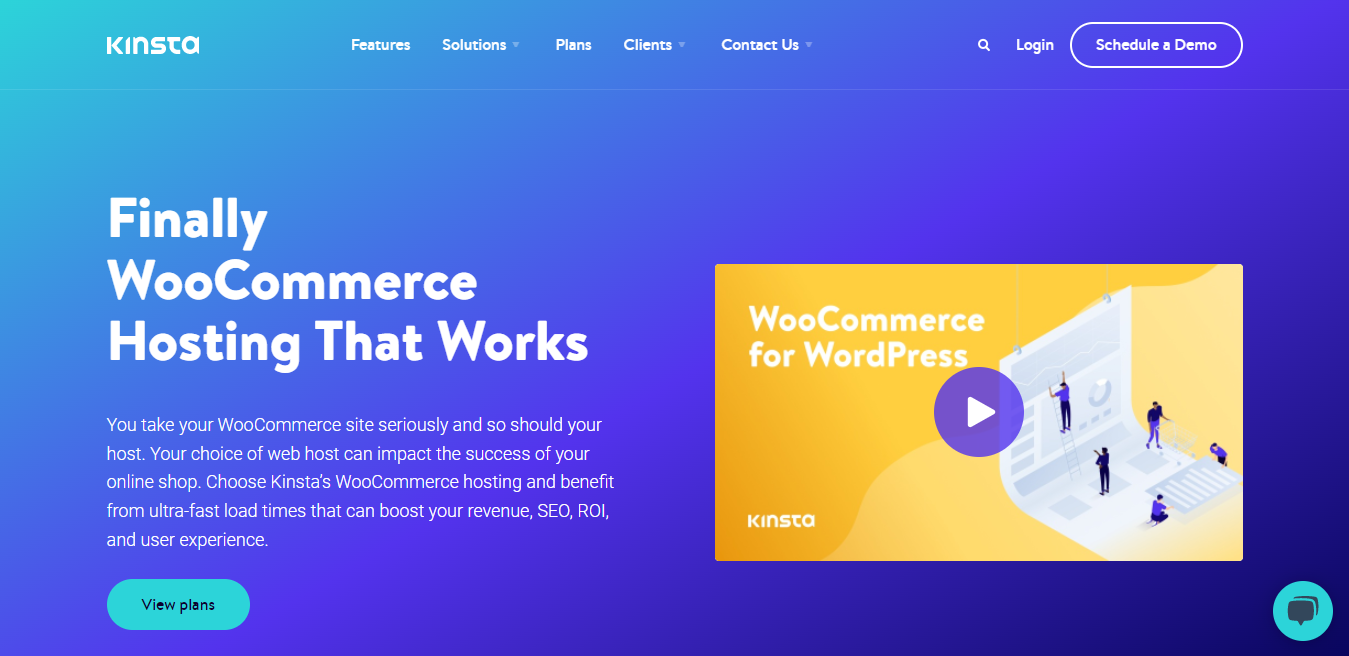 If you are looking for something like pay as you go and reduce the cost, check the Cloudways hosting plan for WooCommerce. They offer affordable pricing and provide managed web hosting to keep the site loading speed fast.
Select a WooCommerce friendly theme
Any kind of website in WordPress requires a theme that basically defines the layout of the website. The same goes for WooCommerce websites. Any WordPress theme won't support WooCommerce. You need to choose a theme that is compatible with WooCommerce.
If you want a user-friendly, lightweight, and fast-loading WooCommerce theme, you should go for the Bajaar WooCommerce theme. 
Choose the best WooCommerce plugins
As you are an existing user of Shopify, you know that online store customization needs some sort of tools or addons. In WordPress and WooCommeerce, you need some plugins that help to customize the store.
Here are the primary plugins that will make it easy to customize your store with WooCommerce —
Based on the type of your online store, you might need some additional plugins as well. If required, do your own research after moving from Shopify to WooCommerce.

Steps to follow to migrate from Shopify to WooCommerce
Once your preparation for Shopify to WooCommerce migration is done, follow the steps described below.
Step 1: Install WordPress
Before you start your WooCommerce store, you need to install WordPress and create the environment to transfer the store from Shopify to WooCommerce.
First, you need to download the WordPress file. It is free to use.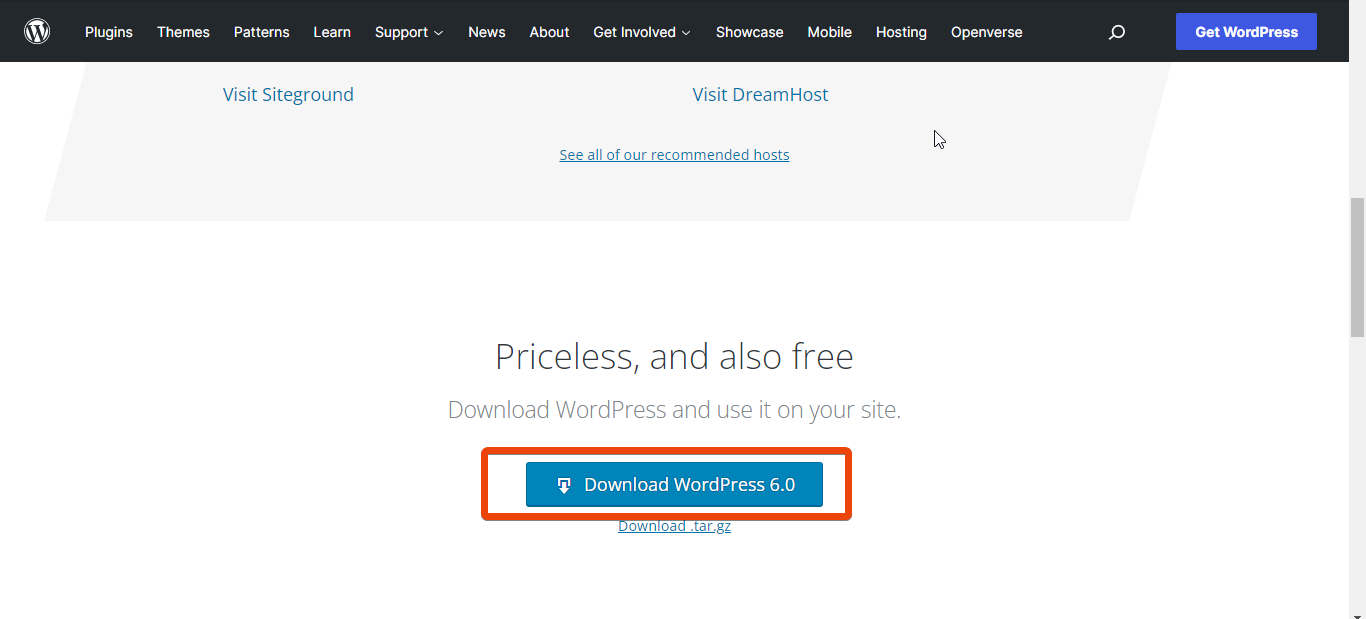 To install WordPress, you need to consult with your hosting provider before starting the migration process. Renowned web hosting services are used to provide the service for free. You can ask them to install WordPress for your domain. It won't take more than a few minutes.
Step 2: Install WooCommerce
Once you are done with the WordPress installation, it is time to install WooCommerce from your WordPress dashboard. For that, go to the WordPress dashboard > Plugins > Add new.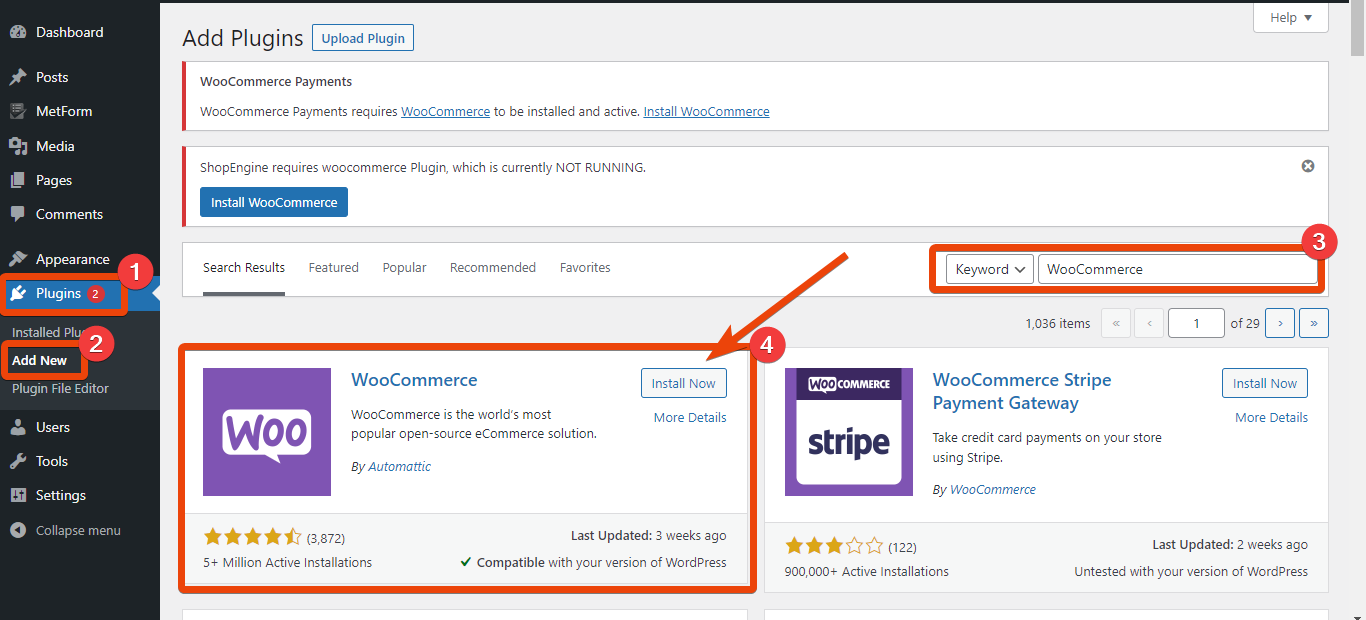 Now in the plugin search box, type WooCommerce and the plugin will appear there. Hit the install button and then activate the plugin from the dashboard.
After the installation, explore the settings and choose the options according to your requirements.
Step 3: Export products from Shopify
As mentioned earlier, you can download the product data from Shopify. The good thing is, when downloading the product data, you will also get product link slugs, titles, tags, variants, and prices along with the product names.
To export the products from your store, go to Product > All Products from the dashboard. There you will see a complete list of products that are available in your store. From the top of the screen, choose Export and hit the button.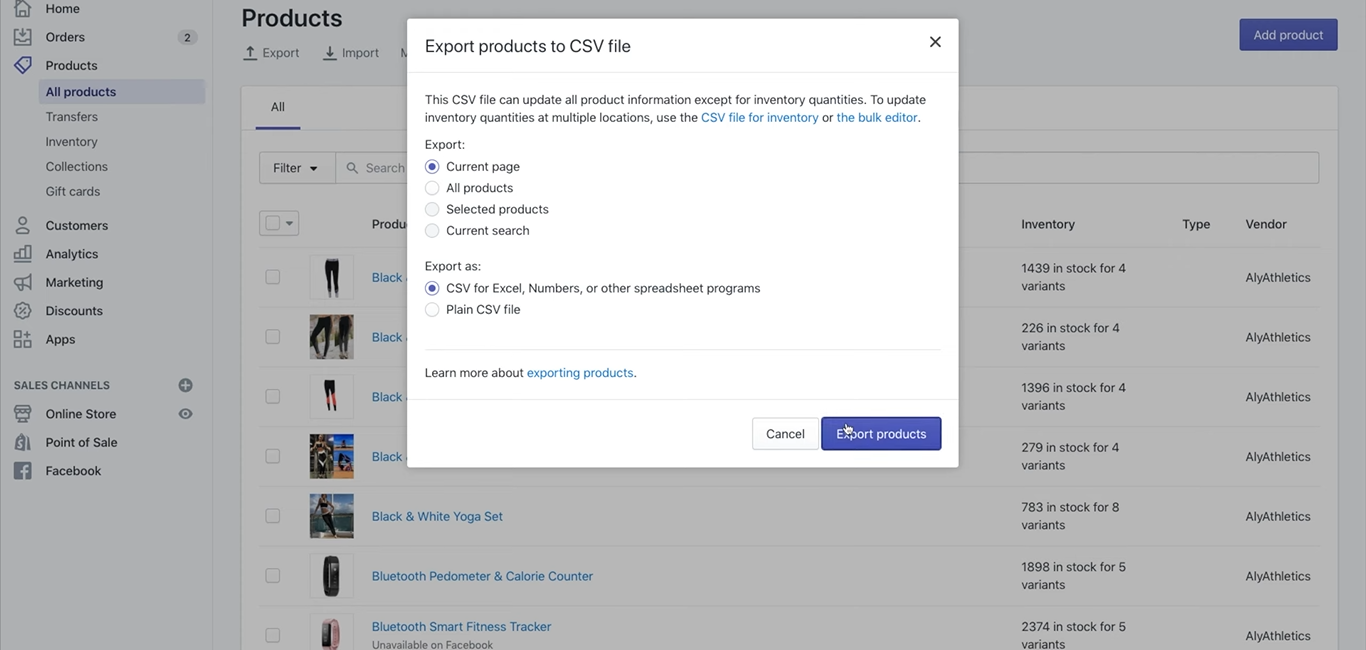 Click on All products, then select the CSV for Excel, Numbers, or other spreadsheet programs option under Export as. Hit the export button and Shopify will export all the products' data with their individual slugs, prices, and numbers.
With a CSV file, it becomes easy to import the product directly to WooCommerce.
Step 4: Import products in WooCommerce
To import the products to your WooCommerce store, go to the WordPress dashboard > WooCommerce > Products. Click on products and you will see the option to import products. Hit the 'Import' button and select the CSV file you have downloaded from Shopify.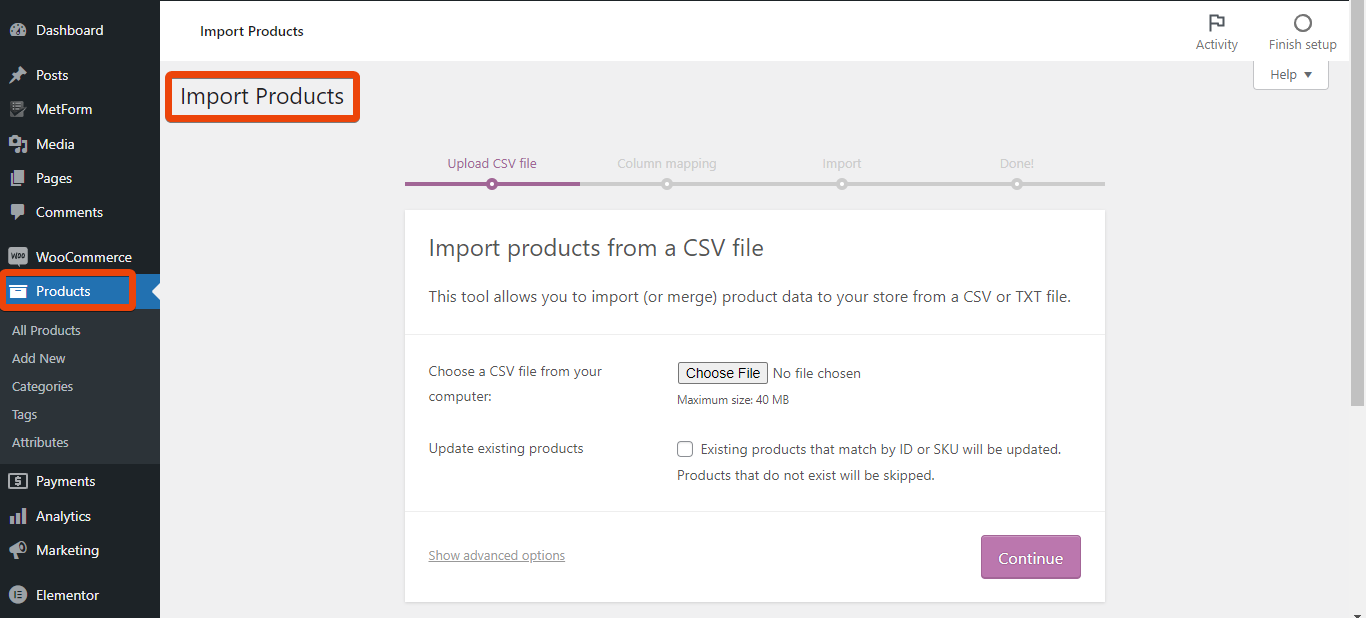 When exporting the products, go through the settings and choose them according to your preferences.
The import process will bring all the data inside your WooCommerce store. You can later change the product titles, permalinks, etc.
Step 5: Update the domain record
You don't want to change the domain name of your store, right? So, you have to update the domain record and point it to WooCommerce. When you were running the Shopify store, the records were different. But for WooCommerce, the domain record should be changed.
For this, you need to consult with your domain registrar. It is easier than you think. The domain registrar will update the data for you. In most cases, it will be free.
Step 6: Customize the WooCommerce Store
Now that you have imported the products' data to your store, it is time to customize the store. For this, two basic plugins will be good enough, which are — Elementor and Shopengine.
Here, Elementor is an easy-to-use page builder and ShopEngine is a WooCommerce builder.
ShopEngine comes with tons of ready templates and modules to build a high-end WooCommerce store without writing any code. Besides, it allows you to customize any of the pages of a WooCommerce store.
For instance, users can customize the product page, cart page, thank you page, and more with the drag and drop functionality.
Final Words
Finally, you have completed the migration from Shopify to WooCommerce. It is time to explore the features of WooCommerce. Go through different settings and also check the templates of ShopEngine. You will find it is too easy to build an online store based on WooCommerce.