It's celebration time! 🎉🎉
Why?😕
Well, ElementsKit just hit 700k Active installations! 😃😃
Yes! Another huge landmark! 🏆🏆
What's even more amazing is it got from 600k to 700k active installations in just 4 months.
And with this milestone, we are another step closer to becoming a strong family of one million.
With each milestone, all the hard work that each team member of ours put in to make this wonderful Elementor addon seems to have gotten rewarded.
And this time reward has come in the form of 900+ 5-star ⭐ reviews on WordPress.org for our dedicated support given to the users.
To learn more about these two landmarks of ElementsKit- All in one Elementor addon, continue reading…
ElementsKit's journey of achieving 700k+ active users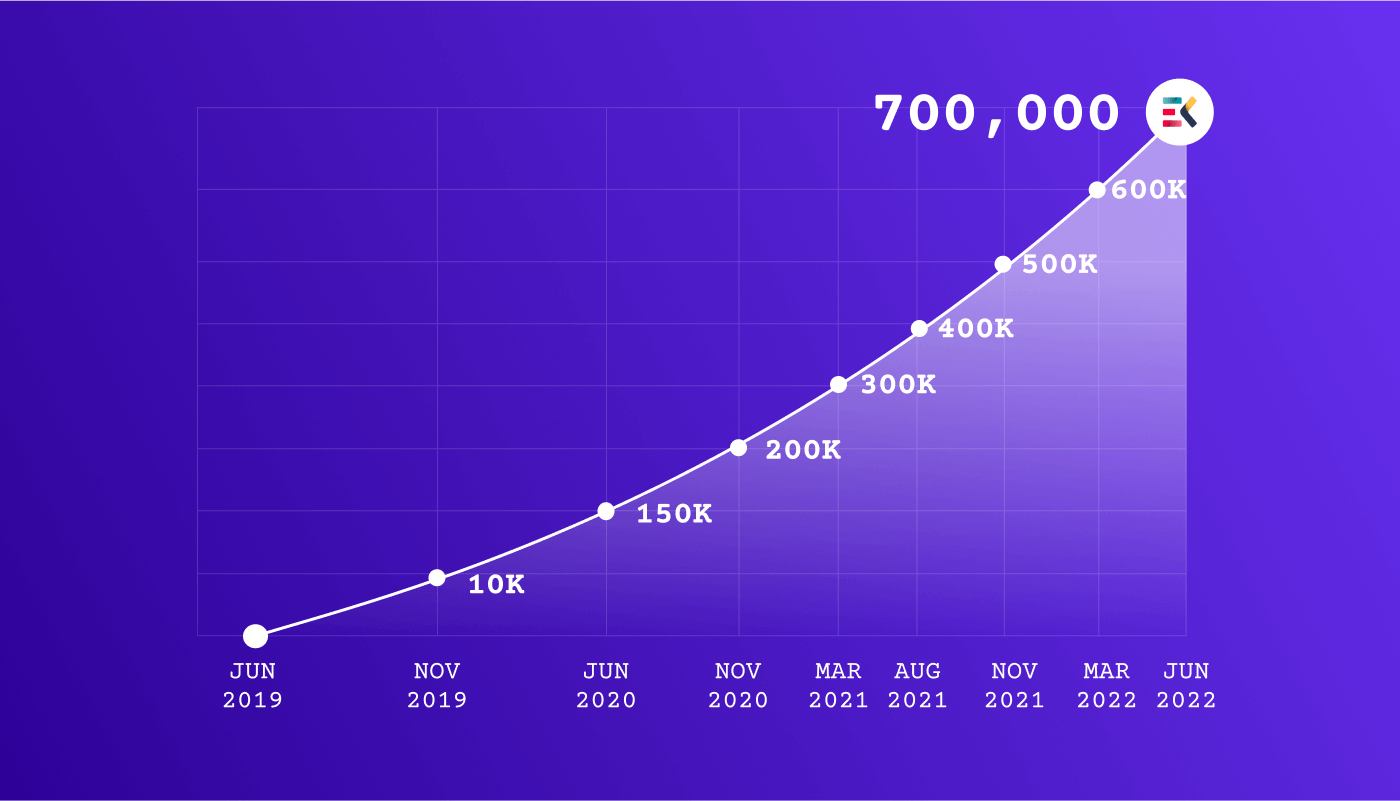 ElementsKit has had a sustainable growth when it comes to the active user. Since its launch in June 2019, it has successfully managed to increase the number of active installations with a skyward growth curve.
While it got to 150k active users within 1 year after its release, it took just over 2 years to become a family of half a million active happy users.
And the journey from half a million to 600k active installation was even smoother taking just 4 months.
Now your beloved ElementsKit Elementor addon has more than 700k active happy users using this wonderful addon to build beautiful websites with ease.
This Elementor addon's 85+ widgets, 8+ modules, and 500+ ready-to-use templates in combination with a ready-to-response support team (more on this later) have contributed to this wonderful success.

A milestone in customer support: 900+ Five- Star Reviews on WordPress.org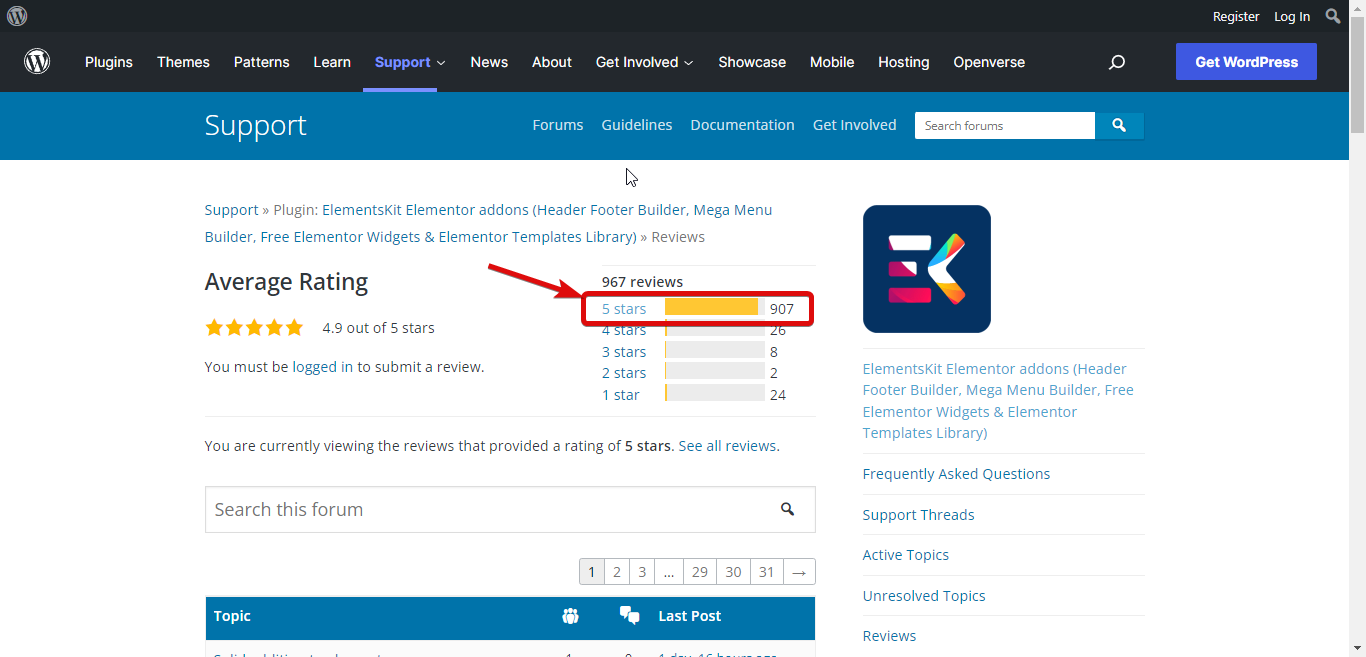 Our team has always known this and thus has always emphasized giving the best customer care possible. And with the hard work of the support team, we have been able to provide world-class help to our customers.
And the satisfaction level of our customers reflects in the 900+ Five-Star reviews we have received on WordPress.Org. 
Our whole team will always be grateful to all the customers who took the time to give us a 5-star ⭐ rating and write words of encouragement. These will encourage us to work harder and provide you with even better service in the future.
Here are some of the positive words of appreciation from ElementsKit users:
Solid addition to elementor ⭐⭐⭐⭐⭐

jschoepp
Best Elementor Plugin ⭐⭐⭐⭐⭐

schmidtket
A GREAT TOOL ⭐⭐⭐⭐⭐

lauremayoud

Why did over 700k users choose ElementsKit?
If you are not one of those 700k+ people using ElementsKit and wondering why so many people have chosen this as their WordPress website builder, here comes the explanation:
✨ ElementsKit is an all-in-one plugin that offers almost all sorts of widgets, modules, and advanced features one might need to build a complete website.
✨ This Elementor addon offers the most flexible header footer builder for Elementor along with a marvelous option to create a mega menu using the simplest steps.
✨ It offers advanced features like popup modal, parallax effect, one-page navigation, advanced sticky, advanced table with Google sheet integration, etc.
✨ You also get options like conditional content using which you can control how your device looks and is accessible to different users based on their logged-in status, device, browser, etc.
✨It also comes with different social media feeds like Instagram feed, Facebook feed etc. so you can incorporate the power of social media on your WordPress site to boost user engagement.
✨ You can easily add WpForms, Ninja Forms, MetForm, Fluent Forms, Contact Form 7, etc to your Elementor site with Elementskit widgets.
✨ Adding zoom meeting to your WordPress site is also super easy with this Elementor addon.
✨ You can easily translate ElementsKit pages and header footer into multiple languages using WPML.
These are just some features out of the 85+ features ElementsKit offers to make web design fun, exciting, and super easy for customers. Do check out all the features of this plugin to understand why so many people chose this addon over other Elementor addons.
What to expect from ElementsKit Elementor addon in the coming time?
With the achievement of a new milestone, our team gets more motivation to provide a better plugin and service to our customers. Especially the positive review drives us to put in our 200% to add new useful features to the already amazing ElementsKit.
Here are some of the features you can expect in near future:
Image masking
Morphing and BLOB
Stylish list
Team slider
Google Review
Gallery widget load more button
Table of the content widget and many more.
If you want any new features, you are always welcome to submit ideas.
Wrap up
700k active installations is just another stepping stone to becoming a family of million active users. While we have our eye on the goal to become the most used and loved Elementor addon, we love to celebrate our achievements and show gratitude to all our customers who have been with us in this journey.
We can promise you that we will continue to provide excellent tech support whenever you need to you can utilize our ElementsKit to build lightweight and beautiful websites. 
If you are not yet a member of this community of 700k, then now it's time. You can join our community of amazing website builders at a 20% less price with the coupon code "community20".
So, get your copy of ElementsKit today and start creating beautiful websites in the most flexible way possible.